Rapper Soulja Boy wasn't content with selling just two phony consoles earlier this week. After controversy struck with the "release" of the SouljaGame Console and Handheld, the rapper has cranked out another console.
SouljaGame Fuze is the newest and most expensive console on Soulja Boy's Soulja Watch website. With a price tag of $639.98, on sale for $399.99, the Fuze console is a rather pricey addition to the store.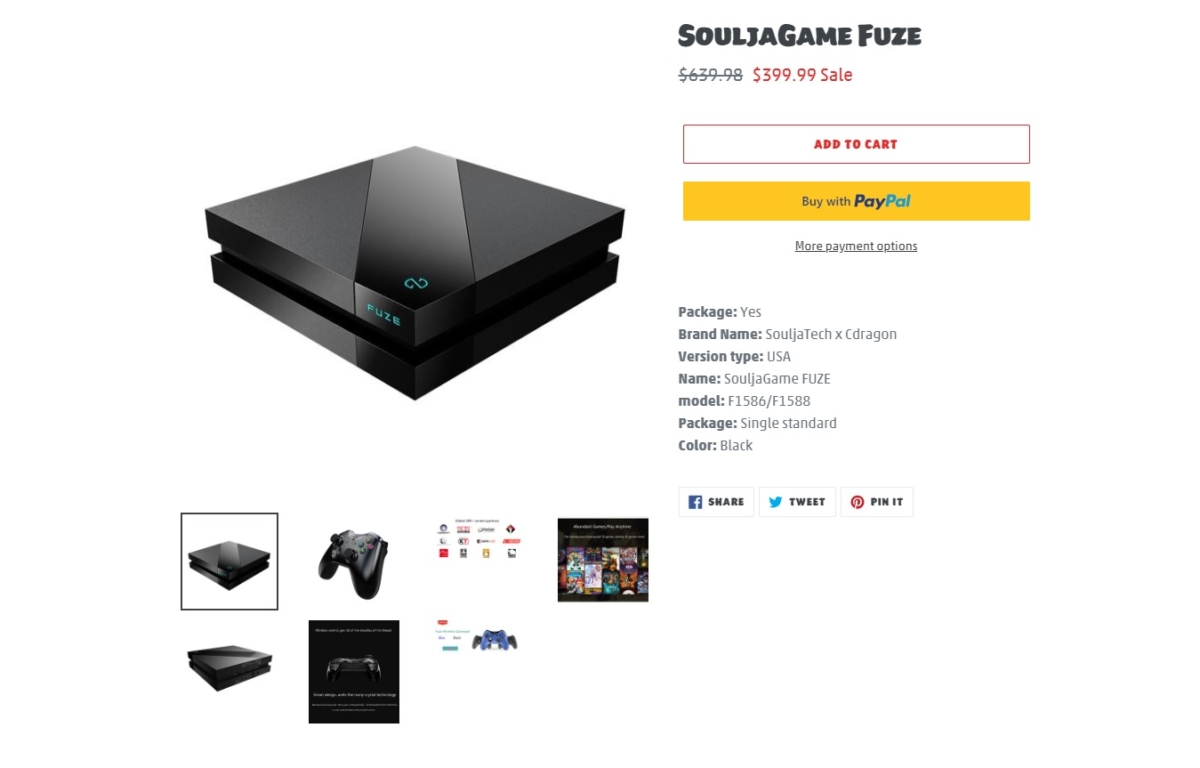 Unlike the previous consoles sold under Soulja Watch, there are no bizarre claims this time around. The store page doesn't claim that Fuze can play Vita or Switch games through emulation but instead gives us next to no information at all.
With that said, the SouljaGame Fuze is simply a resold version of China's Fuze console. The console sells for around $320 on AliExpress at the time of writing and has been sold for a while before Soulja Boy's mysterious involvement.
Equipped with a Nvidia Tegra K1 CPU clocked at 2.2Ghz, a Nvidia Kepler 192CUDA Cores GPU, 4GB DDR3 RAM and 32GB of onboard eMMC storage, the Fuze isn't a slouch for casual games. It's an android box and a pretty important one to the Chinese market.
I'd love to know what is going on in Soulja Boy's head right now. Out of the three consoles currently on sale on the rapper's website, this is by far the most noticeable. Maybe it's time to crank out a new money-making scheme.
Original Story:
Rapper Soulja boy has dominated children's parties thanks to white middle-aged DJs who still thinks that "cranking" and "Superman-ing" is still cool. They aren't cool, by the way, but that's not the point. For some reason, Soulja Boy has moved past the days of poorly-named dance moves and into the console market.
The SouljaGame games console is a repurposed emulator box that's being officially sold on the rapper's website. The SouljaWatch website is charging $199.99 for the console, although it is currently on sale for $149.99. There's a handheld version as well which, while usually sold for $199.99, is currently on sale for $99.99.
SouljaGame Console allegedly plays SOULJAGAME, PlayStation, NEOGEO, PC, SEGA, GBA, and NES video games. The SouljaGame Handheld is said to play Switch, 3DS, Vita, NEOGEO, GBC, Gameboy and GBA games. I'll put it simply – it bloody doesn't.
Thanks to a report by Polygon, we know that both SouljaGame devices are repurposed devices by a company called Anbernic. Both devices are available to buy for a lower price on AliExpress, $105 for the console and $72.99 – $79.99 for the handheld. I wouldn't recommend buying either.
These devices are marked-up versions of low-power emulation devices that really aren't worth your time or money. They can't play the majority of the systems they claim to, and they can't even play the others perfectly.
Source: Polygon